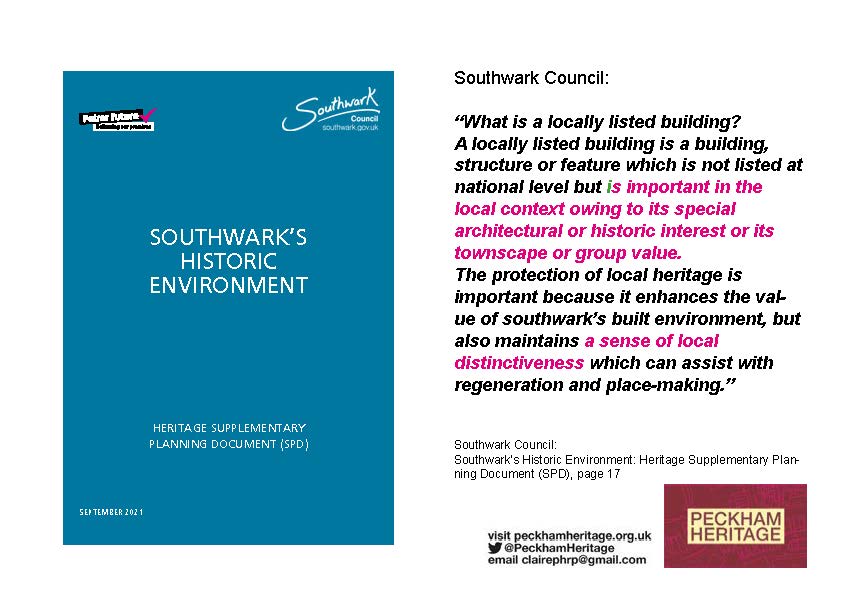 Walk in Peckham town centre 
Saturday 22 October 11am – 1pm
Meet at Peckham Arch and we will look at buildings that people want to include in the Local List.
Email [email protected] for info.
Southwark Council are consulting on the buildings and structures which will be adopted on Southwark's Local List. 
The consultation ends on November 30th.
Your views are needed!
The Local List offers protection for buildings or structures which are important to the local area and to local people, 
so we want to ensure that the views of the broad community in Peckham are included in this consultation.
Our talk on 11th October was an introduction on how to be involved in the local listing process.
See YouTube recording here https://youtu.be/d-953MM3wnc 
More information: 
See Southwark Council's proposals for local listing, and interactive map here: 
https://southwarkdraftlocallist.commonplace.is/
See Southwark's Heritage Supplementary Planning Document here: 
https://www.southwark.gov.uk – Heritage Supplementary Planning Document