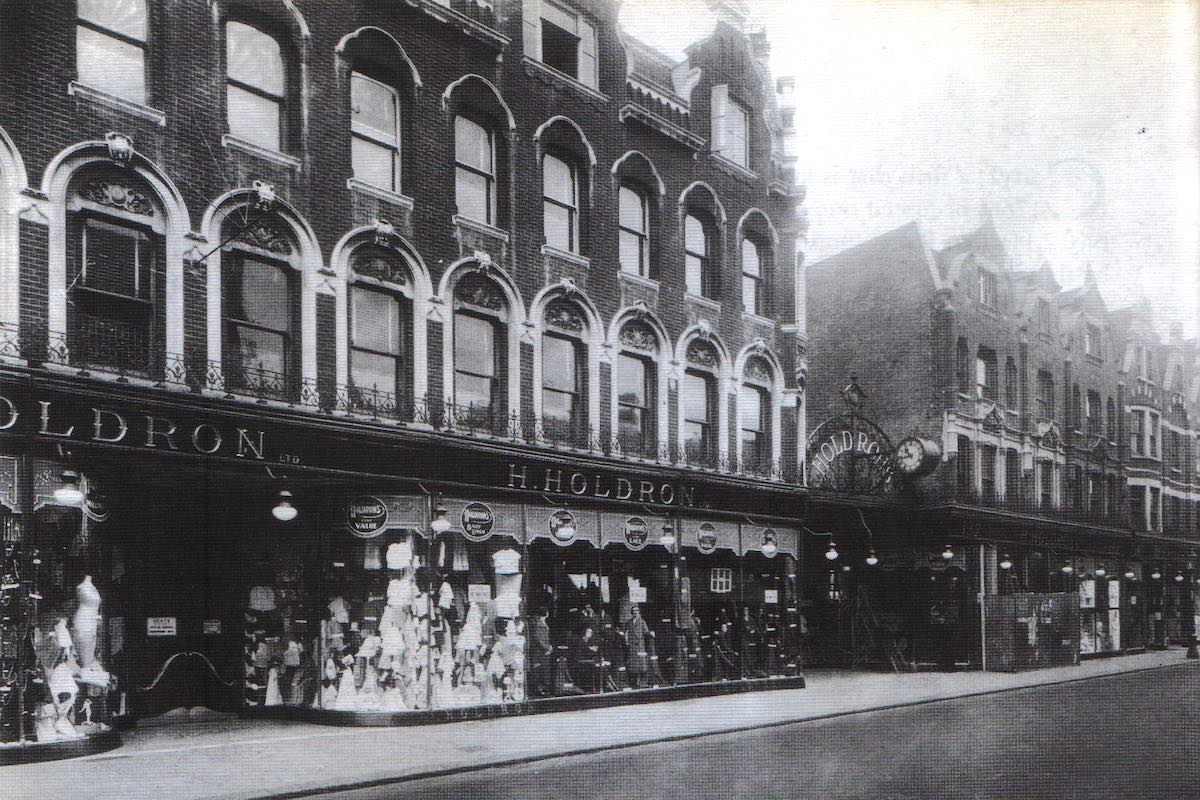 'Rye Lane was noted as one of South London's major shopping centres in the first half of the twentieth century. It was known as the Golden Mile. Its decline began in 1949 when Holdron's large shop closed. Part of the firm's chimney, with RONS on it, can be seen in the Copeland Industrial Park.
The firm began trading in around 1882 when Henry Holdron opened his 'Market' at number 53 Rye Lane. Between 1885 and 1888 this had to expand to include existing shop premises on both sides, numbers 51 to 57. Similar development continued steadily until 1910.
Holdron's had a special character but it was particularly susceptible to the economic difficulties of the 1920s and '30s. The pattern of trade was geared to meet these problems and encourage custom wherever possible. There were very long opening hours (9am until 7pm on Monday, Tuesday and Wednesday; until 7.30pm on Friday and 8.45pm on Saturday). There were frequent sale periods and special reductions. There was also a great deal of 'club' trading, which enabled the cost of a purchase to be spread over a period of time.
During the Second World War there was a fire sub-station at Holborn's. Ironically, fire ripped through part of the former Holdron's tore on 9 October 2001 when the Agora indoor market and Allied Carpets shop were destroyed.
Local resident Doris Daniels recalls in Peckham and Nunhead Remembered (Tempus Publishing Limited) working in Holdron's from the age of fourteen. She found it quite awe inspiring as there were two long corridors leading to Rye Lane and there were commissionaires at the doors.
Holdron's was acquired by the John Lewis Partnership in 1940; it was sold in 1949.'
From Southwark revisited by John Beasley, 2004 (available for loan from Peckham Library):